"A Bee In The Church House"
A Child Of The King
by G. Brown-Johnson, C.O.T.K.
A compelling book, "A Bee In The Church House" shows how the power of the Holy Spirit produces a walk in the newness of Christ by faith, eradicating a "form of godliness." When tested or tried, people persevere in prayer, diligently seeking God through transformation by renewing the mind; righteously equipped to do that as it is written in their manual for living now, and the world to come. The power of God's word is the Truth, revealing an evil spirit when holding the truth in unrighteousness.
A modern day overview of the New Testament Book of Romans, "A Bee In The Church House" bitterness, strife, buzzing, hissing, and at times appearing, as a rattling pit demon. This profound book is sure to enlighten not only believers but also banish the doubts of nonbelievers and bring them back to God's embrace.
"A Bee In The Church House" will enlighten, liberate and empower the believer experiencing the searing pain of a "church hurt." Guidance is to be received through this labyrinth of emotional and spiritual devastation as a powerful and insightul reflection of God's Word." – Pastor Stephanie Stratford, Ekklesia Family Life and Worship Center, Brentwood, MD.
---
"RECOVERY GUIDELINES"
"RECOVERY GUIDELINES"
is an invaluable spiritual guide for believers that will aid them in living a righteous life by enabling them to resist the perfidious iniquities of the eternal enemy and the wiles of his followers. Author G. Brown-Johnson spreads the Good News with her book, emphasizing the necessity of cultivating a personal relationship with the Savior, Jesus Christ, for only with Him can man persevere through the temptations of the world and attain salvation.

"...an excellent tool for use on a "continuous basis," which will aid in overcoming destructive - uncontrollable habits [sting] which are sinful, and go against the grain for righteous living." -Pastor Lonnie Johnson, EBC

"…will allow an experience by the power of the Holy Spirit in your every day life. Choose to commit time to the study of God's word and see a spiritual transformation take place within." - Annie B. Darden, Author of The Ephesians Woman.

"…provides both direction and encouragement as we allow ourselves to identify and acknowledge our sins, recognize our need for God, learn to depend on the Holy Spirit, and truly want to recover from our often debilitating habits and behaviors/sins." - Phyllis
J. Mayo, Ph.D., Psychologist – (Director, Pastoral Care & Counseling Center - MABC)
---
"A CITY CALLED HEAVEN"
Enter "A City Called Heaven" with Author G. Brown-Johnson, the Child of the King, and witness the wonders that await faithful believers in the afterlife. Those who have accepted Jesus Christ in their heart as their personal Lord and Savior shall see the splendors of Salvation, as said in the Scriptures. The prophecies of Revelations: 21 – 22 foretells what is to come, and spreads the Good News to show all – believers and non-believers alike – the shining path of righteousness that lies ahead of those who choose to live a godly life!
---
"ANGELS EVERYWHERE!"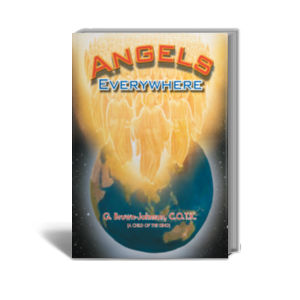 This book is a fascinating adventure filled with extraordinary excitement that God has created "Angels Everywhere!" We are never alone. There are times Angels are invisible. We may not see an Angel, but they are presently looking and watching each of us.
Guarding God's creation as ministering spirits! Angels are beautiful and may appear at any time. When in need of "Help," pray to God, and Angels appear. All creation stands on Holy Ground, now in the presence of Angels created by an "Awesome" God.
Praise the Lord, and do good, like the "Angels Everywhere!". As we talk with God in the name of Jesus, angels appear, leading and guiding, as He is the Light of the world. Look through the eyes of God, there are "Angels Everywhere!".
---
"I AM, Alive...!"
Upcoming NEW Book Release:
"I AM, Alive...!"